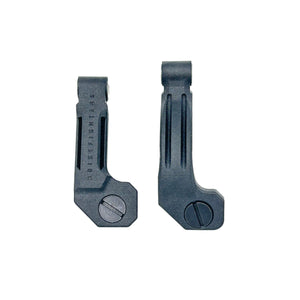 Swept-back PVS-14 arms to use in conjunction with NOX-18 on Panobridge Mk3
Regular price $45.00 Sale
These arms will align the eyepieces so that one can enjoy much better compatibility with thermal monoculars such as the N-Vision® Optics NOX-18 when used in conjunction with our QD Dovetail Adapter

I

ncludes two swept-back PVS-14 arms in both left and right side
SPECIFICATIONS:
COMPATIBLE WITH: MILSPEC AN/PVS-14 MONOCULAR, PHOTONIS® VYPER-14 MONOCULAR, AB NIGHT VISION® MOD3 MONOCULAR (AUTOGAIN VERSION ONLY), KNIGHT'S ARMAMENT® M-14 ALLOY CHASSIS FOR AN/PVS-14 MONOCULAR
MATERIALS USED: HIGH PERFORMANCE POLYMER FROM ARKEMA®, 316 STAINLESS STEEL
WARRANTY: LIFETIME, TRANSFERABLE
NIGHT VISION AND THERMAL DEVICES SHOWN IN PICTURES ARE NOT INCLUDED
MADE AND ASSEMBLED IN THE U.S.A. BY A DISABLED U.S.M.C. COMBAT VETERAN OWNED COMPANY
THIS ITEM IS SUBJECT TO EXPORT ADMINISTRATION REGULATIONS (E.A.R.) AND MAY BE EXPORTED ONLY TO CERTAIN COUNTRIES AND CUSTOMERS.